About Jane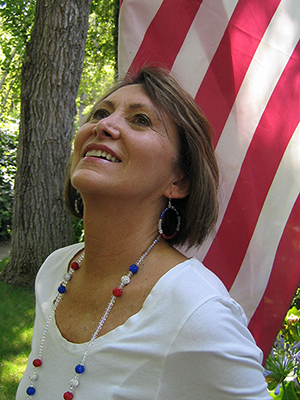 Who is Jane Dukellis
Jane Dukellis, the founder and creative director of Janee Designs is first and foremost a true "Patriotic American", who loves her God, Country and family. She specializes in designing handcrafted fashion jewelry made of real pearls, crystal and semi-precious stones in a wide spectrum of styles and fashions. She retails her designs at some of Southern California's major fundraising events and also makes her jewelry available at selective gift shops.
She recently found herself trying to find something that made a statement that she was "Proud to be an American" other than having a lapel pin on her jacket. Not finding what she was looking for that was pretty, feminine and at the same time made a statement, she started  designing hand crafted jewelry. One thing led to another until she found she had created a large selection of Red, White & Blue necklaces, bracelets and earrings. And that is how ThePatrioticJewelryStore.com came into being.
Her desire is to have other women, whether subtlety or boldly, be able to make a statement that they are "Proud to be Americans!" She hopes you will enjoy her designs as much as she does and if she can help you in fundraising with her jewelry, please contact her at jane@janeedesigns.com.